Trying to join Parimatch but having a few difficulties? Don't worry! Here's your comprehensive guide on how to register online betting Parimatch account and start making money online right away.
Whether you're using the app or the browser, account registration is a doddle — follow this guide, you'll be betting your Parimatch signup bonus in no time!
How to Register on Parimatch?
If you're wondering how to create an account, you can do it from your desktop or straight from your smartphone. To begin accessing sports betting and virtual games, simply follow these instructions, and you're in!
If you're using a smartphone, first you may want to download our handy Parimatch betting app — you can register on here too. There's instruction further below in the guide on how to do this
You can also register on our browser version of the Parimatch betting platform if you're using a smartphone or laptop
First, you have to click the "Sign up" button on the top right of the screen
Next, enter your phone number. We need a real phone number as this will be used to confirm your account
Next, enter a secure password and confirm this password. Make sure it's not easy to guess as you want to keep your winning secure
Accept the terms and conditions
Click "Sign Up"
Verify your phone number by SMS — enter the code sent to your mobile
You'll all registered. Now you just need to make a deposit, and you'll be set to make your first bet.
You can also watch a video instruction about registering on Parimatch:
What's The Parimatch Identity Verification Procedure?
At Parimatch, we're dedicated to ensuring that we apply to stringent financial and company standards. This makes sure that all our users are secure when betting with us.
This is why we take verification seriously. We want to ensure we're following Know Your Customer (KYC) and Anti-Money Laundering (AML) procedures — to keep you safe when you use our products.
This is why we request verification of your phone number upon registration. Following this, we require that all users submit official personal identification documents before withdrawing any funds — to verify themselves. This stops fraudulent activity on accounts and protects users.
The process is pretty quick, and you'll be able to proceed with bet registration or withdrawal as soon as you have been verified.
How Do I Register in the Parimatch App?
You'll first need to download the Parimatch app. Once downloaded, click "Open" and click "Install". You'll be able to open the app and register once it's installed.
You may need to head to the settings on your phone beforehand, and click on security. Slide across the 'Unknown Source' option, so it is enabled.
Once you've downloaded the app, open it up, and click to sign up. Fill in the details with your phone number and password. You'll be requested to confirm your phone number by entering the code sent to you by SMS.
Once you're completed bet online registration, you're all set to deposit funds and bet registration will become available straight from your smartphone.
Here is a video about installing the Parimatch app:
Not sure? Learn why Parimatch app is the
best soccer betting app
in 2022.
What Bonuses Do I Get When I Open a Betting Account with Parimatch?
We're pleased when we get to welcome a new customer into the fold, that's why we like to give you a greeting gift. We will double your first deposit to up to 1,000,000 TZS. Join now and enjoy this special offer!
Register for Parimatch Today and Start Your Betting Journey!
You can register for Parimatch from your smartphone or laptop browser. You can also sign up straight from the Parimatch Android/iOS app — easy peasy bet registration!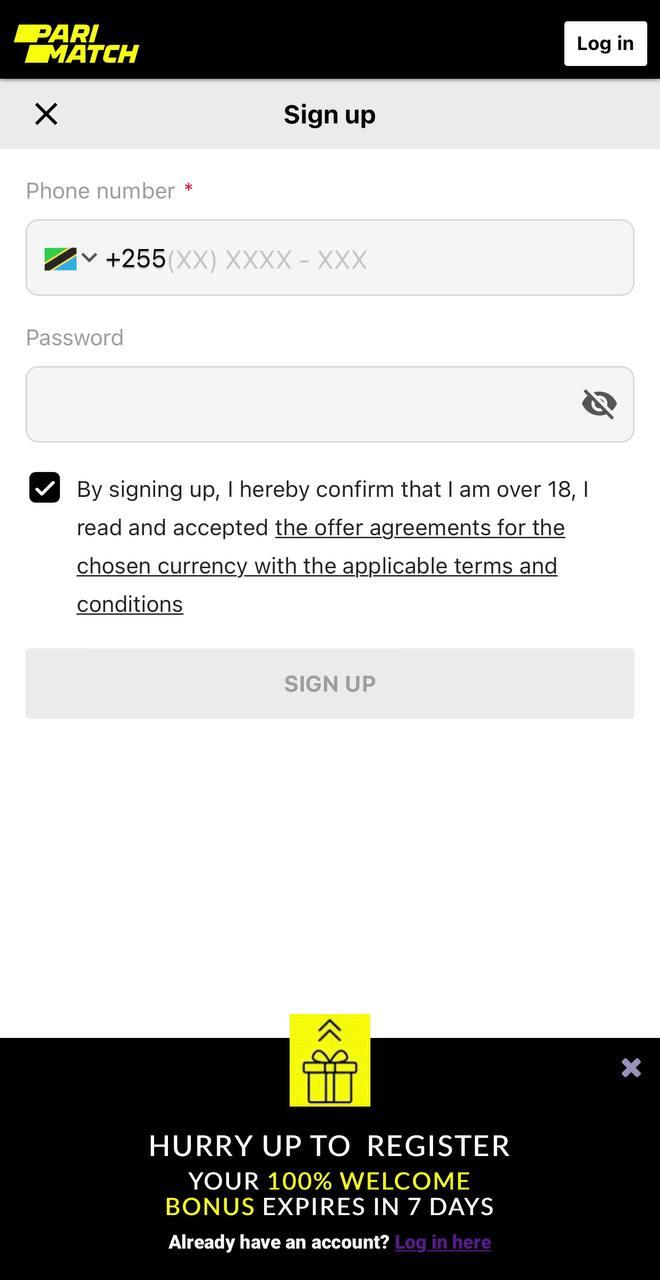 As 2022's best betting platform in Tanzania, we're offering accessible sports betting from your smartphone with just a few clicks. Register today and access worldwide bets on volleyball, ice hockey, soccer, cricket, tennis, handball, and basketball, and more!
After you've done Parimatch registration, check our guide on how to bet and win! And let luck be on your side!
Check also the answers to the most frequent questions about betting.